A Grumpy Elf answers your questions about chatting with Santa Claus in 2023!
Sometimes Santa gives strange answers. What's up with that?
The elves are fine-tuning the Santa AI chatbot technology to help Santa. Most times, Santa answers your questions. Sometimes, Clumsy the Elf answers your questions. Clumsy sometimes gives really silly or strange answers to your questions. And sometimes, Santa's computer (Hiccup) answers your questions. Santa's computer gets the hiccups from time to time. ☺
Why does Santa sometimes repeat his answers?
If you ask the same question, then Hiccup (Santa's computer) just answers for Santa (or Clumsy) using the same answer as before.
Can I ask Santa 'what is my name' or other personal information about me or others?
Yes, you can ask him those questions. And he does know the answers. But, he's not going to put any personal information about you or anyone else on the Internet. Internet safety is very important to him.
Why are there links to emailSanta.com here?
SantaChatter.com is part of the emailSanta.com family of webpages.
What is "No QnAMaker answers found."?
That just means that Hiccup didn't know what to do (Hiccup gets easily confused -- I think it's because Clumsy keeps leaving candy canes inside of it). Just ask a different question. 😉
Can I chat with Santa about anything?
Because Santa is so busy, it's best if you only talk to him about Christmassy things.
Can I tell Santa what I want for Christmas when I chat with him?
Yes, you can. But, it's best if you send your wish lists here. That way the elves can start working on them right away.
Can I talk to Santa online?
Jumping Jingle Bells! Santa would love to talk to you online! Santa is waiting to talk to you online right now. Clumsy the Elf created a fun way for talking to Santa for free anytime you want!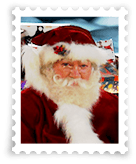 You can chat online with Santa Claus any time you want for free.  Just go to this page and start chatting with Santa Claus right now!  No personal information required.  Santa will reply fast as red-nosed reindeer fly!
How do you get a conversation with Santa?
You can have a conversation with Santa Claus here. Santa's waiting to talk with you right now.
Can I chat with Santa for free?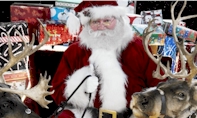 Of course it's free to chat online with Santa. Santa loves to chat with all the good 👦 boys and 👧 girls of the World after all. It makes him happier than a partridge in pear tree! You can chat with him for free right here on this page.
Is there Santa live chat?
Yes, you can chat live with Santa Claus here. He's waiting to talk with you right now from the North Pole. It's safe and free!
How Can I Text Santa Free?
Santa loves to text and chat! So, yes, you can get text from Santa free on his SantaChatter. You can even get free texts from Santa on Christmas Eve when you talk to Santa right here!